More Visible and Rank Higher
It is important to have a good ranking in the search engines. Most people start their search on the internet by using a search engine like Google.
Boljoro optimizes your website for the search engines. You will be more visible with the content you want. An other advantage is that your website will get a higher position in the search results. People tend to click on websites that are higher in the search results.
Get rid of Google Penalty
Websites can get hit by a Google Penalty. This is a punishment by Google for using bad methods to rank higher in Google or because your website doesn't meet the webmaster guidelines. You can get a manual penalty or an algorithmic penalty. The first is given by an employee of Google after a manual review. The algorithmic penalties are given automatically by the Google algorithms. The most famous Google algorithms are Google Penguin and Google Panda.
A penalty will result in a drop in the search results. This can be for some specific keywords or pages but it can also be the whole website.
Boljoro can help you to clean your link profile and website to get rid of the penalty. The Link Research Tools certificate and our case study proves that we are qualified to help you with this.
Clean up your Link Profile
Even if you didn't get a Google Penalty it is wise to clean up your link profile. You don't have to wait for your punishment if you can prevent it. Maybe you used some SEO techniques in the past that are out of date and can hurt your website these days. It is also possible that one of your competitors is using negative SEO techniques against you. There are many reasons why you should clean up your link profile. It is something every website should do from time to time.
Contact us to get a quote for your link audit of your website.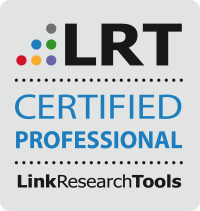 Certified Link Research Tools Professional
Christiaan Bollen, Owner of Boljoro is the only Certified Link Research Tools Professional (CLRTP) in the Benelux. This certificate proves his knowledge and experience with Link Research Tools and SEO in general. This certificate is given by Christoph C. Cemper