Search Engine Marketing (SEM)
Search Engines like Google show organic results for your keywords. But at the top and in the right sidebar you see payed results. These advertisements are much more visible than the normal organic results.
With the right set up you get more visibility and conversions. Boljoro has the knowledge to help you set up and maintain good campaigns.
Display and YouTube advertisement
Display advertisements or banners are not only good for direct response advertising but also for branding. People can see your banner and click on it. But even if they don't click they will notice your ad. The more people see your brand the better they will know it. Not all marketing will have direct response, branding is important. A good campaign will also target the right audience.
With Google Adwords for Video we can help you set up video advertisements on YouTube.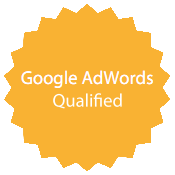 Google Certificates
Christiaan Bollen, owner and founder of Boljoro achieved the Adwords Advanced Search and Adwords Advanced Display certificates.
This proves that we have the experience and knowledge to manage Google Adwords campaigns.